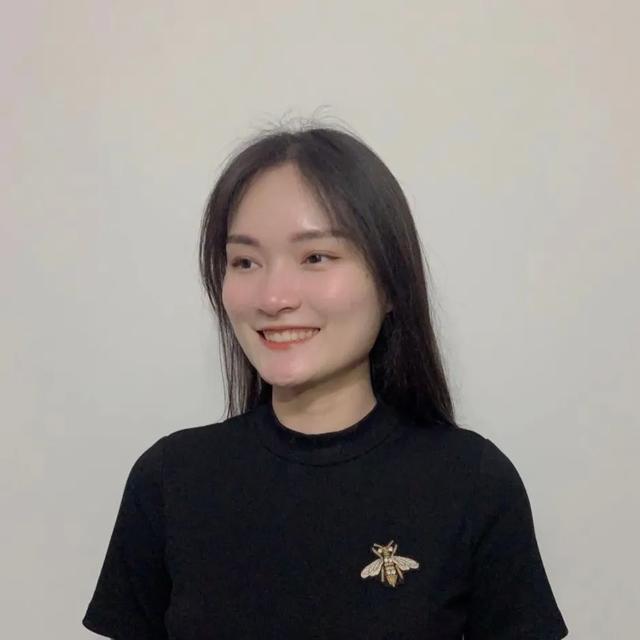 Deng Yaqi, College of Business and Public ManagementAccounting
WKU – the opportunity to explore the world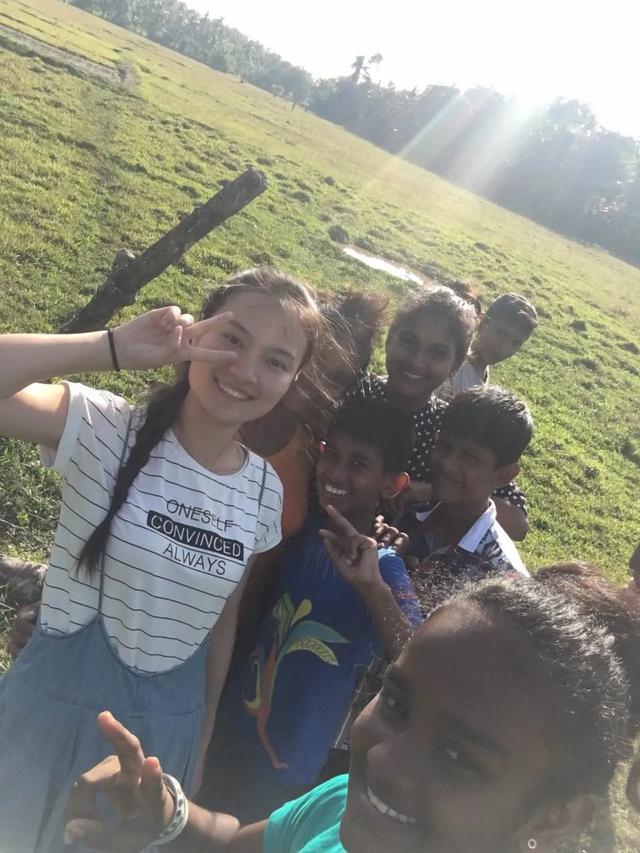 Deng Yaqi with her students in a Voluntary Teaching Program in Sri Lanka
For you, what is the best gift left by WKU? Yaqi believes that it was the opportunity to explore the world.
An impressive experience occurred to her during her first summer vacation, when she started voluntary teaching in Sri Lanka. The conditions there were rather tough. Without a bed, she could only put a mattress on the ground. The widow had no glass fitted and mosquitoes and spiders were everywhere; besides, there was no hot water.
"Although I enjoy being around with children, I still felt overwhelmed with eight lessons per day. I went out every morning with full vitality, but returned completely worn out. "
Deng described this experience as "unforgettable". I believe what made this experience impressive is not the hardship, but the beautiful land and hospitable and friendly residents.
The Buddha statues on the campus and the red small stones pave, the chanting sounds accompanied by the sound of the Buddha every morning enabled her a deeper understanding of this country; the children of Sri Lanka didn't watch TV or play mobile phones, instead, they were more likely to play volleyball, play games, fly kites outdoors after class, frequently in muddy but always with a smile on face. They have an imaginary childhood that she dreamed of; the Lanka people were warm-hearted and friendly, for example, when several volunteers casually greeted, "Have you eaten yet?" "Wanna eat together?" Those local teachers and their relatives would invite dozens of friends to come for dinner, which shocked the volunteers.
Before leaving, the children all around her were reluctant to let her go, and sent her small gifts made by themselves: bracelets, necklaces, and headdresses…
For her, this experience teaches her a vivid lesson that everything is reciprocal, not exactly in the aspect of material reward, but sometimes a sense of spiritual satisfaction instead. All those inspire her to move further to help others.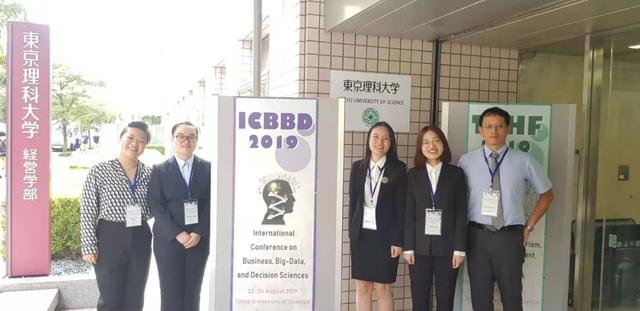 Deng Yaqi attended ICBBD conference in Japan
Last year, Deng led by Dr. Candy and Dr. Ho, went to Japan to participate in the International Conference on Business, Big Data and Decision Science at Tokyo University of Science, ICBBD. She spoke and presented papers at the conference, in which gathered many top industry leaders and scholars.
The group that she was in took Hema Xiansheng as an example to discuss how China has regained offline retailers' sales after a large number of online e-commerce companies having seized the sales market and caused a huge impact on offline retailers. "We have been doing survey to obtain data for nearly a year, because there are few academic achievements on related topics, so the whole process is quite tough."
At the conference, their research attracted many great scholars. The academic atmosphere of the conference and the academic spirit of the scholars impressed Deng and gave her deeper insights on her project. Through this journey, she was able to see the most cutting-edge views and technologies, to interact with the top scholars in person, and to embrace unprecedented opportunities.
A "dreamer" who never stops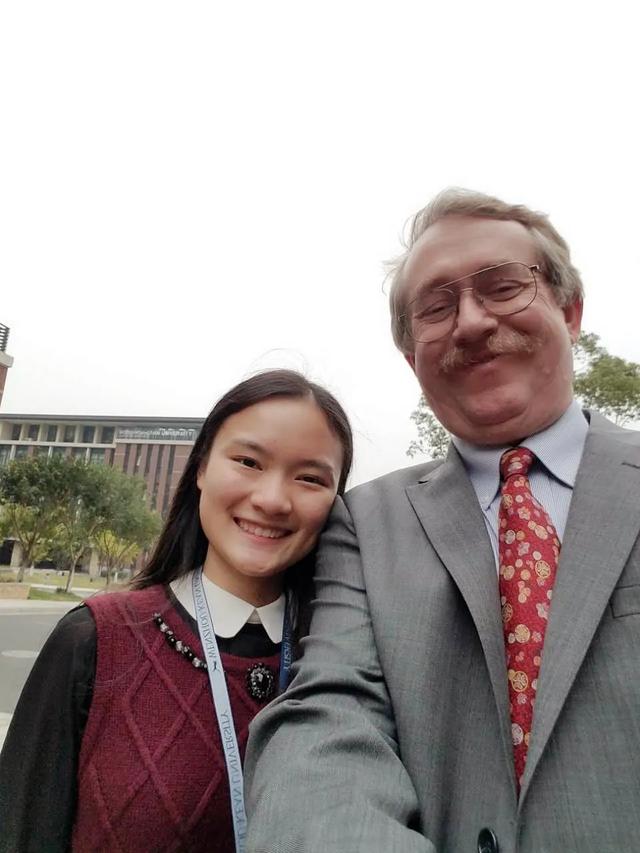 Deng Yaqi with Dr. Blair
Referring to a list of activities organized by her when she worked as a student ambassador, she mentioned the word "experience" several times, "working as the student ambassador gave me various experiences and allowed me to meet many celebrities in each field, who are doing something really interesting and inspiring, I can't wait to join. "
Deng emphasizes personal experience, and thus she strives for more opportunities that have been given by WKU to enrich herself, and at the same time as a "dreamer" she has put all her wild thoughts into action. Masquerade, Color running & Electronic music festival, Book collection battle, Reading Party, Christmas alma mater … Each event was an adventure tour for her.
Besides, she is high self-demanding, who would check on each process in every activity organized by her, making it as best as possible. "Although it could be tiring, but all team members would be there for each other and support each other. As the event proceeded, our friendship moved deeper, by the end, we could feel a sense of accomplishment.
The first time she led a Campus Tour left her deepest impression. "The first time I led an English CT, the visitor was Prof. Dr. Blair, who came to WKU from the United States. I was very nervous during the whole process, and I made some mistakes. Dr. Blair is a kind and gentle man, and he listened to me patiently. When he knew that this was my first time I worked as an English CT, he kept encouraging me. "
This journey was not even close to success, but she was highly inspired and motivated and has been working diligently since then. With all the efforts, she became more professional either as a participant or an activity organizer. "These activities enriched my life and gave me a sense of leadership. I learned how to increase efficiency as a team via effective communication with my partners."
Four years have passed, this girl who had looked up to the "figures" has gradually grown into a "figure" herself. At present, she has received an offer from Deloitte Huayong, one of the world's four leading accounting firms.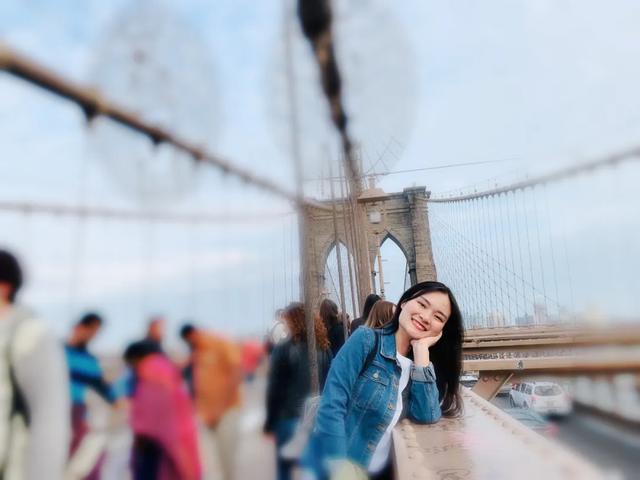 Deng Yaqi in daily life
What are the secrets leading to her success? Why has she been accepted by "Big Four "(referring to the four leading accounting firms), Deng provided some practical suggestions to the younger students: pay attention to school recruitment and participate in short-term internships provided by those companies. The two points are essential to final recruitment.
Facing a fresh new start, Deng has already set a goal for the future. "There are many good business schools abroad requiring work experience, so I want to work hard now to gain some practical experience. In the future, I still want to go out and continue my studies. "